COVID UPDATE
we are not undertaking any off-site walks at the moment due to social distancing safety measures. Instead we have been building enrichment zones in the field which the gang are loving. 
Off-Site Dog Walks
Included in our full or half-day package is a one-hour off-site dog walk in some of the gang's favourite places with an experienced dog walker.
No trudging around the same place day in, day out for us…. We understand that dogs get bored so we go off-site to walk and play. This allows the gang to have a great time running, chasing, socialising and playing with experienced and trained dog walkers and their doggy friends….. and because we walk different locations the dogs enjoy new places and experiences. The Dog Bus is definitely not just another dog walking or dog daycare service!
Professional dog walking doesn't only involve walking the dog, it involves having a duty of care to other people and other peoples dogs, livestock and being able to understand and read the environment. It involves keeping the dogs safe and under control, obeying dog law and cleaning up after the guys when they leave us presents.
All the team are experienced dog walkers and undergo training in dog behaviour, canine body language, dog law, first aid and customer service.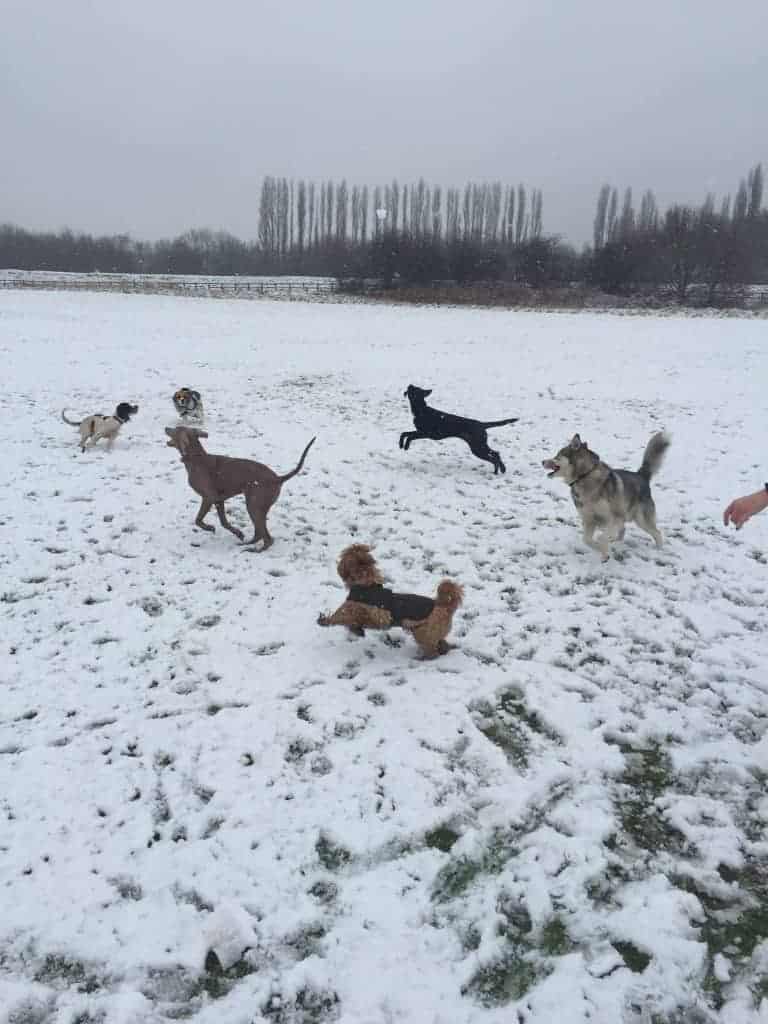 In or Out!
Many dog daycare centres keep the dogs on site all day, The Dog Bus have retained their ethos of off-site dog walks, taking advantage of the open (but safe) dog walking locations in the area.
Being located between Altrincham and Lymm in a semi-rural area gives us access to some great walking spots; the canal, riverbanks, woodlands, trails and fields. We don't walk roads, round the block or local parks nor do we go to the same dog walking spot day after day!
All Weather Walking.
Yep! We walk in all weathers; rain, sleet, snow, winds and sunny days (much preferred of course), all throughout the year. We wrap your pooch up in their favourite coat (or one of ours if you don't have one) and off we go.
Regardless of weather or traffic we will always turn up. If the weather is seriously bad and puts the dogs in danger then we will assess the situation and may walk slightly less that day, but will make up for it on another. If in circumstances out of our control we will always let you know.
If the gang get really wet or cold we whizz them back to our Dog Bus Depot, dry them off and warm them up.
Other Dog Walking Services
We understand that not everybody needs Doggy Daycare but equally, the traditional one hour walk is not enough for most dogs.
Therefore we have partnered up with "Dogs Out And About" who offer both a 1 hour and 1.5 hour dog walking service.
By working with Dogs Out and About you can mix the week up between daycare and walking in a one stop shop!
Really Want To Beef Your Walk UP!!!!
Then check out Adventure Walks. Serious walks for high energy dogs; beaches, hills, woods, off track.