This is definitely not your average
dog walking service!
WELCOME TO A NEW STYLE OF DOG WALK!
If you are looking for something more than an average 1-hour dog walk or half-day dog daycare or an alternative to full-day dog daycare then our adventure walks are a great way to keep your dog occupied throughout the day.
We tested the idea back in early 2020 with great success but unfortunately, Covid halted the rollout. However, we now have the opportunity to add this exciting service to our portfolio.
Adventure walks are one of the best ways to stimulate and enrich your dog's mind. Covering fresh ground on our trips, your dog will investigate new and interesting sights, smells, and sounds – boosting their mental health and leaving you with a pooped pup at the end of the day! Our dog buses will travel to scenic locations for your dog to explore!
Our walks last 2 hours, and they are out of town adventures!
No local parks, going around the block, or on the odd bit of open space for us!  We go to exciting places like the beach, deep into forests, up the hills or deep into the woods. The dogs get some serious exercise, are mentally enriched and have fun enjoying the day with their dog friends
Specifically designed to suit various energy, health and age levels and all under the watchful eye of highly experienced, trained and insured professional dog walkers.
🌿FROM 7:30am: Our bus is on its way to you, stocked with water, treats, towels and blankets ready for the marvellous day ahead.
🌿8:30: The gang touch base on the usual adventure field. Dogs use the toilet, have an initial zoom and play, and any new additions have a proper introduction to their friends.
🌿9:30am: We're off! We aim to arrive at our destination for the day within 30 minutes, so nobody gets travel sickness/grumpiness.
🌿FROM APPROX 10:00am: Your dogs will run, play, swim, climb and fetch on our chosen trail, beach or peak. And there's no rush! They will be occupied for an action-packed 2 hours before boarding the bus to head back. We walk at your dogs' pace, and there is no end goal or summit on our adventures. If something is interesting, we will stop! And if the dogs want to batter on, so be it! Our walks are designed to be about experience rather than distance. We all know that a walk full of smells and scenes will always beat a boring dirt track. We bring plenty of water and bowls, treats and a first aid kit with us on the walk. 
🌿CIRCA 12:00/12:30pm: The pack heads back to the van, where dogs are rinsed, towelled and praised for their achievements! Your worn out pups can crash in individual crates in the van, padded out with blankets and quilts for their utmost comfort.
🌿CIRCA 1:00pm: Dogs arrive back at TDB field. They reunite with their other mates – playing scent games, Barkour and just being dogs!
🌿2:30pm: All aboard, the bus route resumes until each dog is happily settled at home again. Your dog will sleep all the way (and then some!), dreaming about its incredible day out. You probably won't see much movement until it's time for dinner!
Please note that dogs attending our Adventure Walks would ideally be able to explore off lead, with a reliable recall and ability to resist strangers' picnics!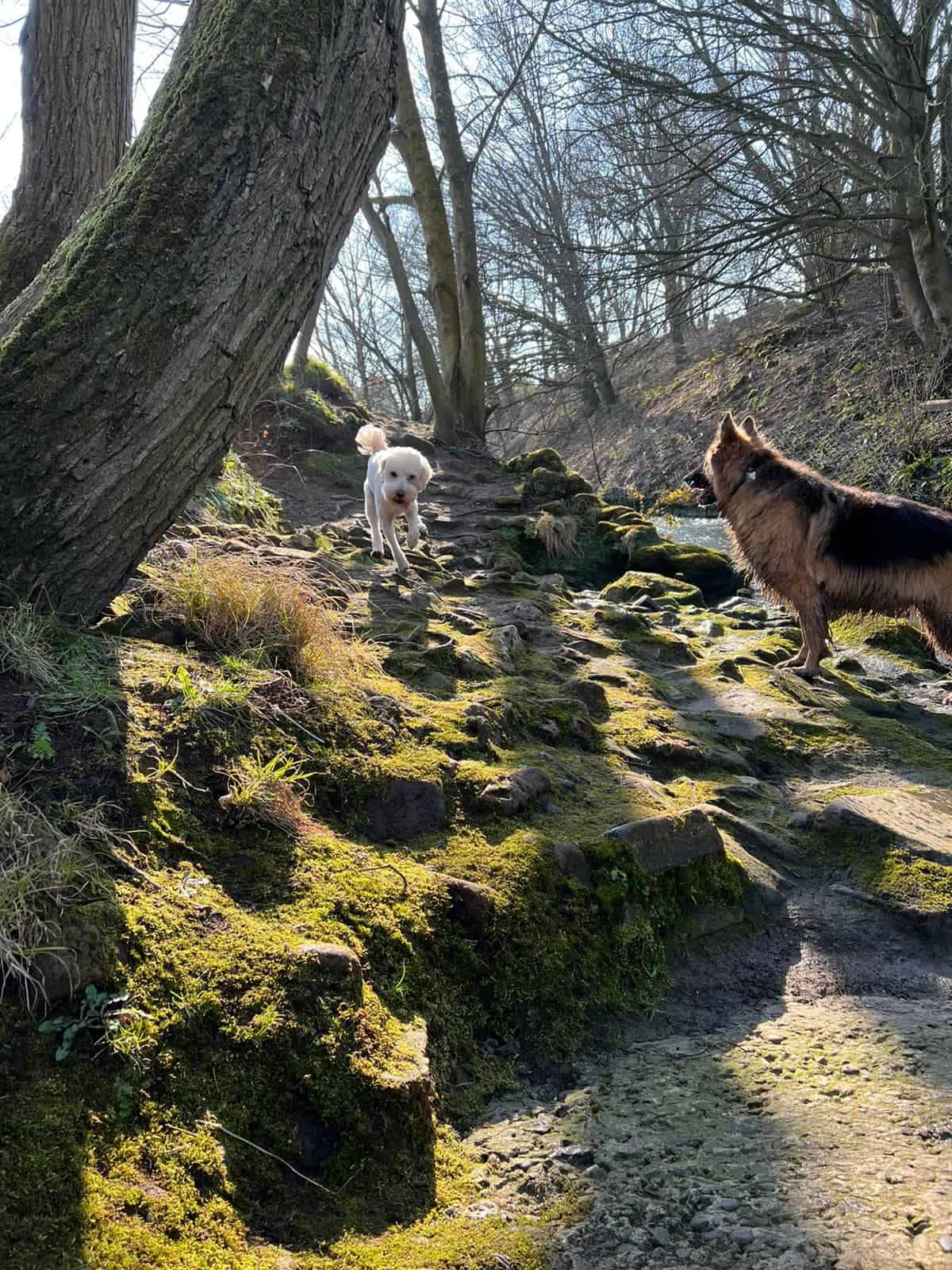 Hill Walks
Considering a dog walker but want a little more than the average 1 or 1.5 hour walk?
Beach Walks
The fun of walking the dogs on the beach with lots of  dunes, sand and water to play with.
Country Walks
Rural and forest walks with lots of places to explore and sniff along the way.
The Team Behind Adventure Walks
Have Experience Of  Over
RAW HEAD WALK 🌳⛰
Part of the wonderful Sandstone Trail, Raw Head Walk offers a shorter but no-less stunning walk that both you and your dog will love. The Sandstone Trail featured on Julia Bradbury's "Top 100 Walks", but at 34 miles long, it can be daunting and a few days trek. The Raw Head route offers a few hours walk along the trail, and includes climbing the highest point, allowing you to enjoy views of the picturesque countryside and to see the famous sandstone for yourself in a much shorter timeframe.
Styal Wood & Quarry Bank Loop 🌲🌲🌲
We love Styal! Offering an exciting terrain of slopes, woodland and water, this walk is great for high energy dogs. Dogs love to race up the steps and over the bridges, and the River Bollin also runs through this walk, providing sand banks: a 5-star digging experience (Diesel Dog approved✅).
Ainsdale Beach

🏝

The beach here is backed by the same sand dunes that run along this section of the Sefton coast. Together they form one of the largest areas of wild dune land left in Britain. The Ainsdale and Birkdale Sandhills Local Nature Reserve covers 988 hectares of open dunes and beach and is home to a rich variety of flora and fauna.
Walk Length:

 

Various
Difficulty:

Easy

Terrain:

Beach & Dune
White Coppice

⛰

On our walk, we encounter an old quarry, a pretty brook and a number of little cottages in the hamlet. 

Footpaths pass along the reservoirs and the dogs can enjoy the waterfalls, streams, moorland trails and wooded areas 
Walk Length:

 

Various
Difficulty:

Moderate

Terrain:

Hill
Marbury Park. 🌳
Marbury is a great walk, offering woodland, masses of open space and plenty of water. We love Marbury because it's never usually too busy in the week, and as the weather gets warmer we will see the wild flower meadows start to bloom – making it a great hide-and-seek spot for dogs at play.
Delamere Forest. 🌲🌲🌲
Known and loved by many, this one is an amazing all-rounder for your four legged friend. Delamere is a huge Country Park with endless possibility for swimming, dodging trees, running and digging – and we can't wait to see the dogs take the place by storm. Hopefully no squirrels will be harmed in the process! 😯
Difficulty:

Moderate

Terrain:

Forrest
Run by a team of highly professional and experienced dog walkers, dog trainers and dog day care specialists.
Our Adventure walk concept was tested in 2020 before covid hit us by a team of experienced dog lovers who wanted to do something different! We had one simple aim and that was to enable dogs to be mentally enriched, get some great exercise, explore places they normally never go and have fun at the same time.
Qualified, Experienced Trained Professionals
Dog Walking and Dog Day Care Combined
Licensed Professionals, IMDT instructor
Pickup and drop off included
Free consultation and registration
Totally flexible bookings. No set days required.
Qualified Dog Trainer
OCN Level 3