Timeline
9:00: GOOD MORNING!
As dogs are dropped off by each bus, the day begins with friendly greetings between regular dog friends. Any new additions are introduced slowly and in a controlled manner, before being placed into a suitable group. High energy dogs run our staff ragged during this time, and we keep everyone moving and stimulated using the Barkour apparatus, tearing through the natural pond, and doing scent work games.
9:30 ADVENTURERS SET OFF
Our Adventure Walk bus leaves, excited and rearing to go to its special chosen location. See more about what we get up to on our  Adventure Walks in our menu. 
9:45 LOCAL WALKS AND ENRICHMENT ROTATION STARTS
Our local adventures are rolled out throughout the day, and every dog on site is treated to a complimentary walk with one of our trusted team members. Our team are all experienced dog walkers, and we love to get the dogs out and about, playing games and exploring the nearby countryside. In the meantime, the dogs at the field are divided into well thought-out groups, and kept busy with our Enrichment Zones.
11:30 WIND DOWN AND BACK ON THE BUS
Your tired, invigorated and satisfied pup gets comfy in our bus, which is fitted with padded crates and goose-feather quilts for the ultimate snooze experience. The dogs nearly always sleep until we turn the corner for their road, and they magically wake up just in time for drop off (it never ceases to amaze!)
12:00 – THE AFTERNOON SESSION BEGINS!
The afternoon session dogs arrive on site, and the process is repeated again! They are met with a freshly cleaned up field, and happy staff who are ready to get the party started.
2:00 ADVENTURERS TOUCH DOWN
Our Adventure Walk aims to arrive back for 2:30, and these dogs are organised into groups to merge with the existing dogs at the field. Our adventurers are often tired and with this in mind, are often placed in a calmer and more relaxing mix of dogs.
2:30 HOME TIME
All aboard, our afternoon slot dogs are gently transported back home, where they sleep until mum or dad is back. Even then, they will probably only open one eye before drifting off again. See you tomorrow!
We have our own private, secure 7-acre field offering an enriching environment for the dogs to play, explore, run around, sniff and relax in.
No warehouses for us!
We provide the care when you can't be there 
Our 7-acre doggy day care adventure field offers a day full of care, walks, cuddles, treats, and enrichment. It allows us to create a perfect programme of activities and adventures for the dogs throughout the day.
Our FREE pick up and drop off service makes it hassle-free for you and our affordable prices makes it a great all-round service. 
Although we offer the opportunity for your dog to stay out longer than your average 1 or 1.5 hour walk, we don't class ourselves as a dog daycare centre. We are simply (and it's a whole lot more fun) an adventure play park for your dog to enjoy.
Dogs need activity and mental stimulation or they get bored which can lead to depressed or destructive behaviours. Being natural scavengers they will often mooch around all day looking for food. We use this to encourage them to use their brains to problem solve. This keeps them happy and enriches the environment for them. 
The key benefits of mental enrichment for dogs are: 
✓ mentally and physically tiring
✓ reduced worry and fear
✓ decreased reactivity to stressors
✓ improved memory
✓ reduction in compulsive behaviours
✓ improved learning
✓ slows cognitive decline
✓ creates balanced, happy members of the family
Friendly Members Only
To become a member of The Dog Bus gang we have a strict entrance criteria which involves an assessment from one of our qualified staff.  Only friendly, well-socialised dogs, are welcome to join and ideally will be with us at least one day a week.
Although we are massively flexible to how often you use our combined dog adventure field and walking service. Regular visits ensure your dog will get to know all our Dog Bus gang members and therefore everyone is familiar and friendly with each other.
It also allows our hooman team members to really get to know your dog and to bond with them!
Our Play Field
Seven acres of fun and games in our own private field. Our Adventure Field is all about play, fun, socialisation and relaxing in a safe, well managed and secure environment.
Not every dog wants to run around zooming all day. Some just like to chill and rest.
Our dog adventure field gives the opportunity for a range of activities and is suitable for play or rest before or after a walk, or in many cases more than enough on its own.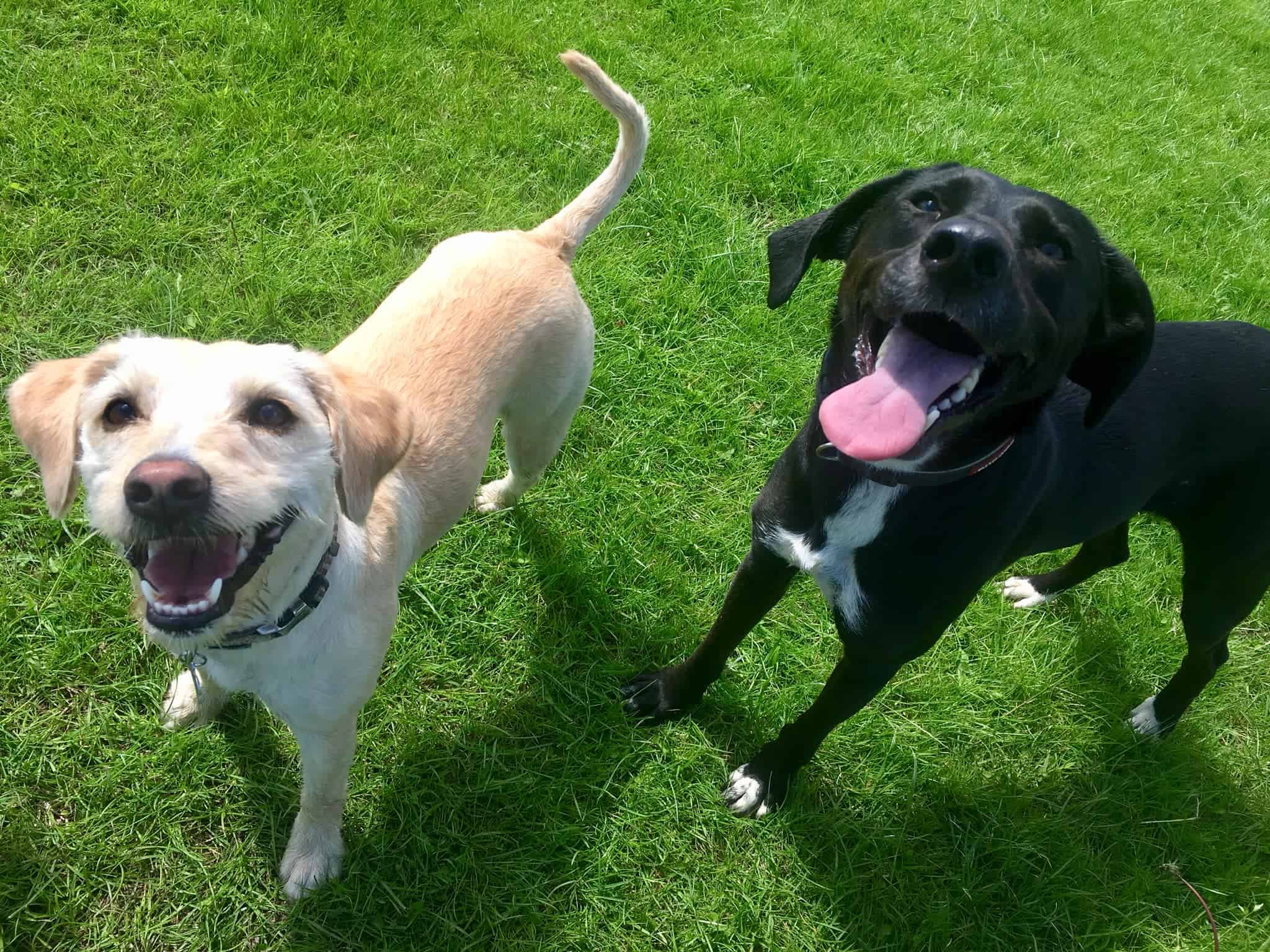 Secure Fenced Field
Seven acres of secure fencing. Our fencing meets "The Animal Welfare (Licensing of Activities Involving Animals) (England) Regulations 2018" higher requirement. 
We also have a three gate entry system to stop the most determined peskies from trying to escape. 
We walk the parameter fencing twice a day to check for digging or other methods of escape and to keep (for their own good) the rabbits out. 
Small Dog Area
Although in the dog world size means nothing, sometimes the smaller gang members may want to just play with dogs of their own size or not be bowled over by the bigger guys during play.
Some dogs (of any size) just like to chill and rest so our small dog/chill section gives them the opportunity to do this.
Therefore we have sectioned off an area that allows the little guys to zoom and loon with dogs of similar size.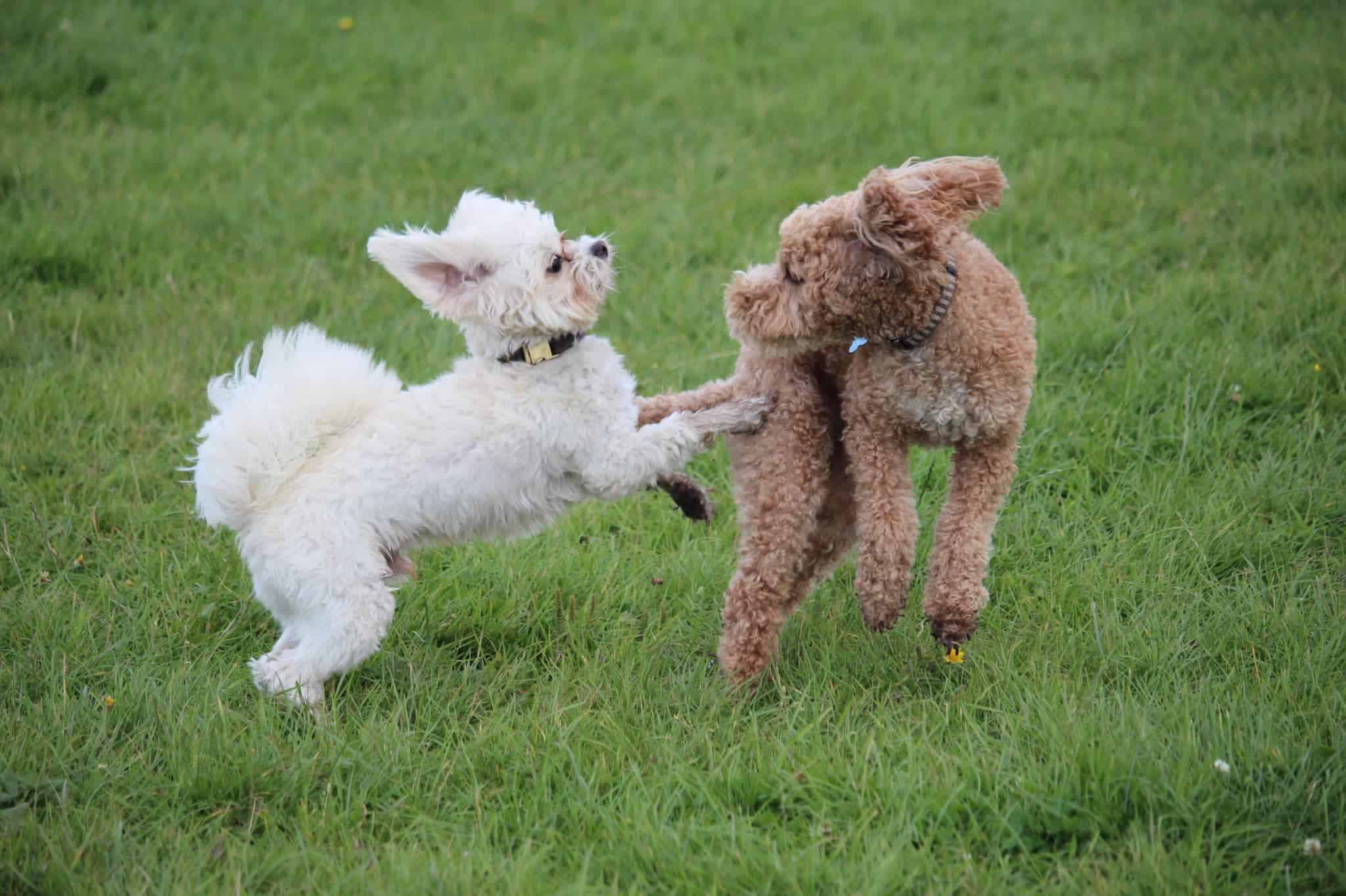 Pup Area
Although we are great believers in socialising pups as early as you can, we also appreciate that the world can be a big scary place for them.
So we have sectioned off a pup introduction area in our field so they can get to know the hoomans and the other Dog Bus gang members without being mobbed by everyone coming over to say hello.
Check out our free pup training.
Training Area
We have sectioned off part of the field for specific training. Apart from your everyday training needs, we have built a dog parkour training area, dog hoopers area and agility training area.
We are also looking to introduce scent training in the future.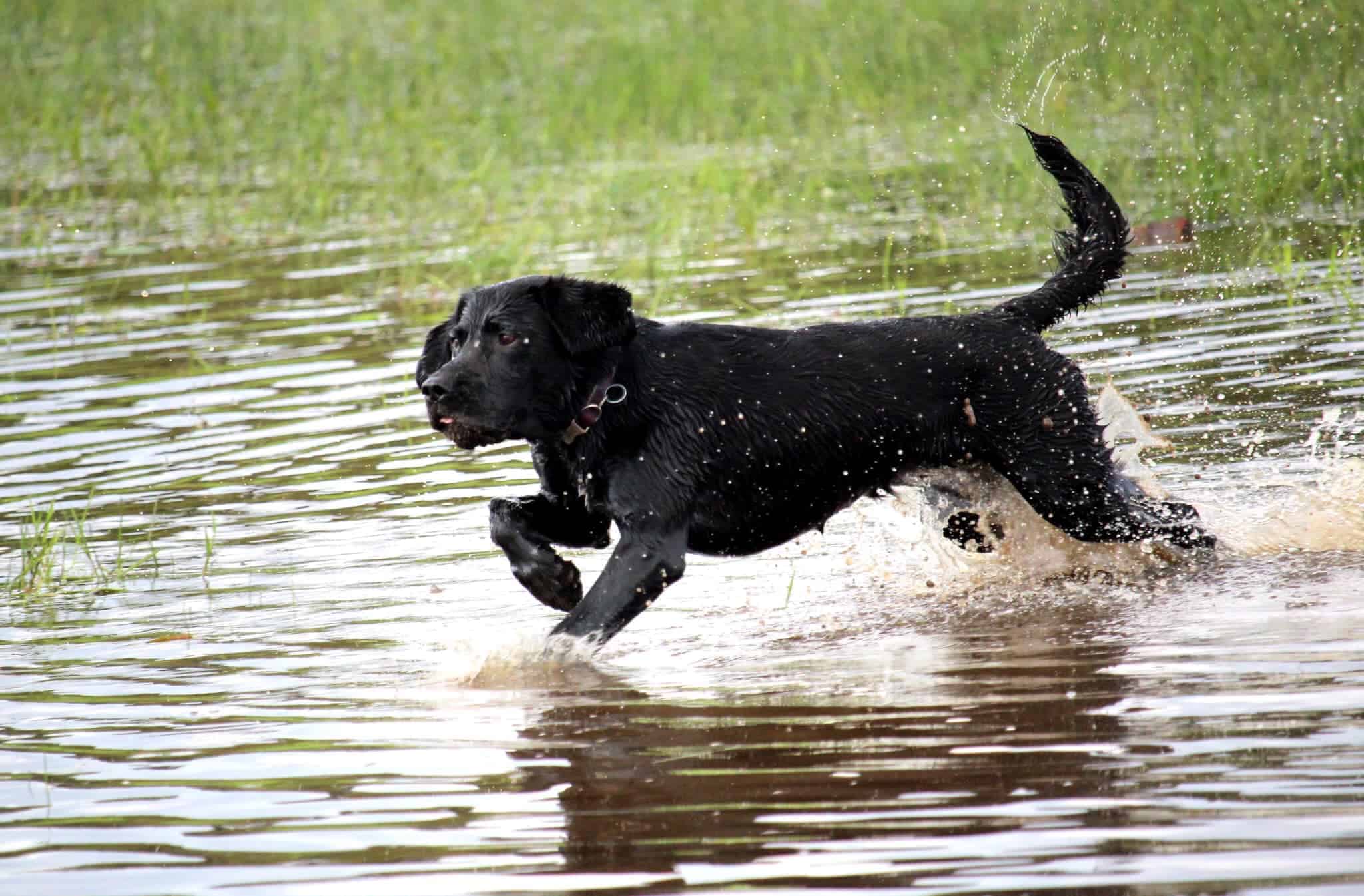 Water Fun
In the field, we have a large natural pool. The dogs love to play, sit, paddle and run through the water to their heart's content!
We also have our paddling pool, sprinkler system and bubble machine.
The only water feature we don't like, although a lot of the dogs do….. is the rain! 
Scatter Games
Scatter feeding gives dogs mental stimulation and reduces many problems such as anxiety and stress 
We use the principles of scatter feeding to enrich the day for the gang. We scatter treats (or hide them) in the field and the guys work out where they are. 
It utilises the dog's senses and grazing for food makes almost any environment feel safer and interesting.
The guys love it when we scatter the food and they will happily search around to find and eat the treats.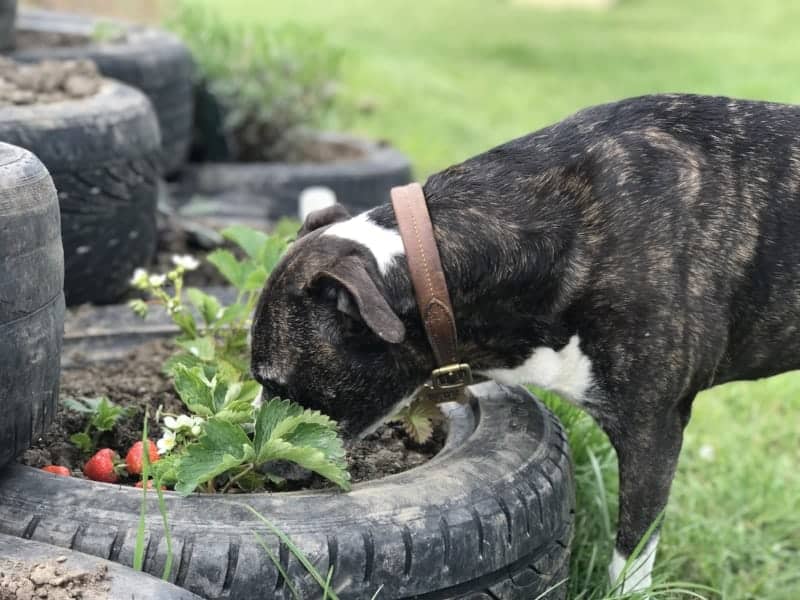 Sensory Garden
We have created a sensory garden for the dogs to enjoy and sniff. The sensory garden is planted with plants and herbs aimed to reduces stress and anxiety thus encouraging them to become more secure in their surroundings. The garden provides additional stimulation and enrichment and is created to give off different smells, textures and sounds so that all the dog's senses are engaged.
In the garden we have; Catnip, Chamomile, Clary sage, Hops, Lavender, Marigolds, Marshmallow, Meadowsweet, Mimulus: Mint, Plantain, Thyme, Valerian, Vervain, Violets and Yarrow.
Check out our blog post for further information on the benefits of these plants and herbs for dogs by Clicking Here
Our Sand Tyres
Many dogs just love to dig! It is a naturally rewarding activity to them despite the frustration you may have as you see your garden or plant bed get shredded.
They are simply hardwired for this behavior,  some breeds dig to make indentations big enough to lie in, others like Terriers who have been bred to hunt rodents, are natural diggers, some dig simply for the fun it.
So we have filled two large tractor tyres with sand and oh boy do the gang love to dig in them (it also saves them digging up the field)!
We use the tyre pits with training commands such as "digging pit" to develop a cue word that has a positive association with it by hiding treats in the pit for them to sniff and dig out.
Please excuse any sandy beards the guys may come home with!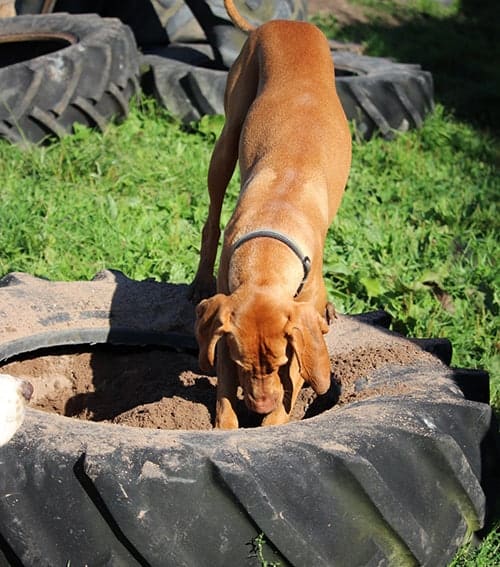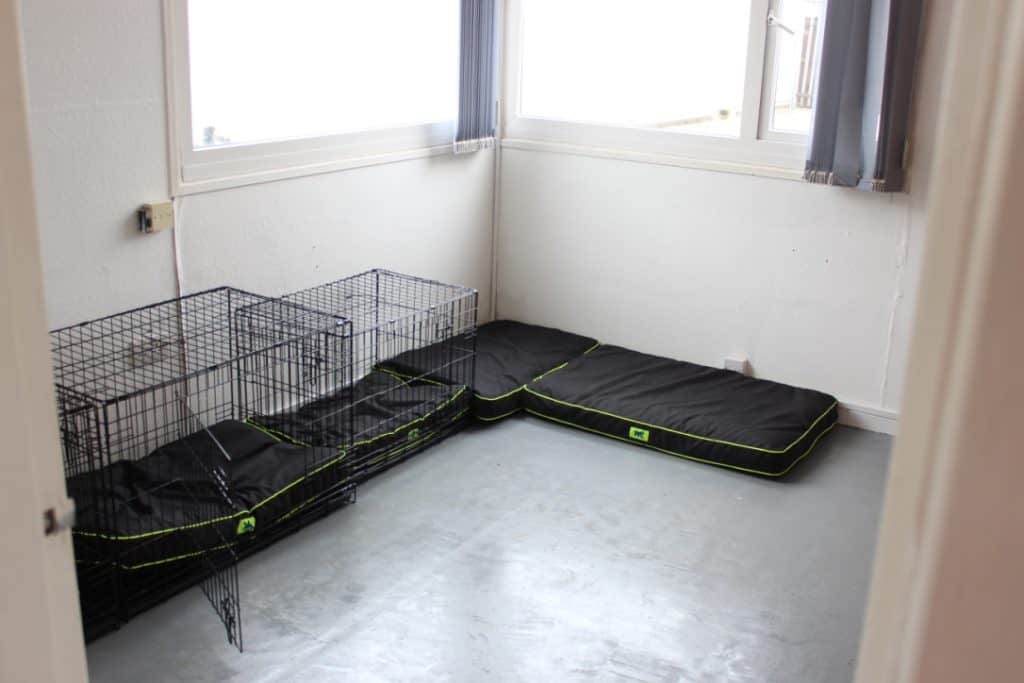 Our Stable/Barn
When we took on our field we were lucky to inherit a large stable/barn building. The problem being it came without any walls at either end! It did, however, have a roof, one long wall to the side, and a floor.
So after a bit of tweaking, hammering and drilling it is now is fully walled, glazed, insulated, has heating and a new floor.
Because we worked very hard, the dogs said the hoomans can have a kettle; so we have one of those as well ?
By November 2019 we should also have large converted caravan for extra shelter.
Open Crate Policy
We do not forcibly crate dogs for any reason.
Crates should be a positive experience for a dog, not a cage. Associate a crate with a bad experience in a daycare centre and you poison the crate at home!
We provide crates for the guys to come, rest and go as they want. The door is always left open. We also have beds and baskets for the guys to crash out on.
Our only exception to closing a crate door is to rest our pups. However, we do this using only very positive association, so that the pups are not over-exercised.